Today, Apple is unveiling new products on the company's event in Sand Francisco. As I write this, Jeff Williams is introducing new Apple Watch and says it is completely re-engineered. The watch is swim-proof; waterproof to up to 5o meters. Even the speaker system is waterproof, but being a speaker it can't be sealed off completely – it will need to be shaken to get the water out after submerging. The workout app supports pool swimming practice. The new watch has a dual-core processor that is up to 50% faster, two-times brighter screen, and built-in GPS. The watch will come in stainless steel, aluminum and ceramic – which is apparently four times harder than steel.
Felix Richter, the data journalist from Statista, writes:
Over the past few years, Apple's smartphone market share has followed a similar pattern across several markets, as Statista's chart, based on Kantar Worldpanel data, illustrates.
Every year, the release of new iPhone models in September is followed by a spike in Apple's smartphone market share as people rush to get their hands on the shiny new devices. After a few months, when the holiday season is over, the hype tends to die down, and Apple's share of smartphone sales starts to decline. iPhone sales typically bottom out in August, shortly before the new models are unveiled and the cycle starts again.
This year, Apple broke the rhythm a little bit by releasing the iPhone SE in late March. Interestingly, the lower priced entry level iPhone didn't help Apple's position in the United States, but it did help to gain some market share in the UK and France.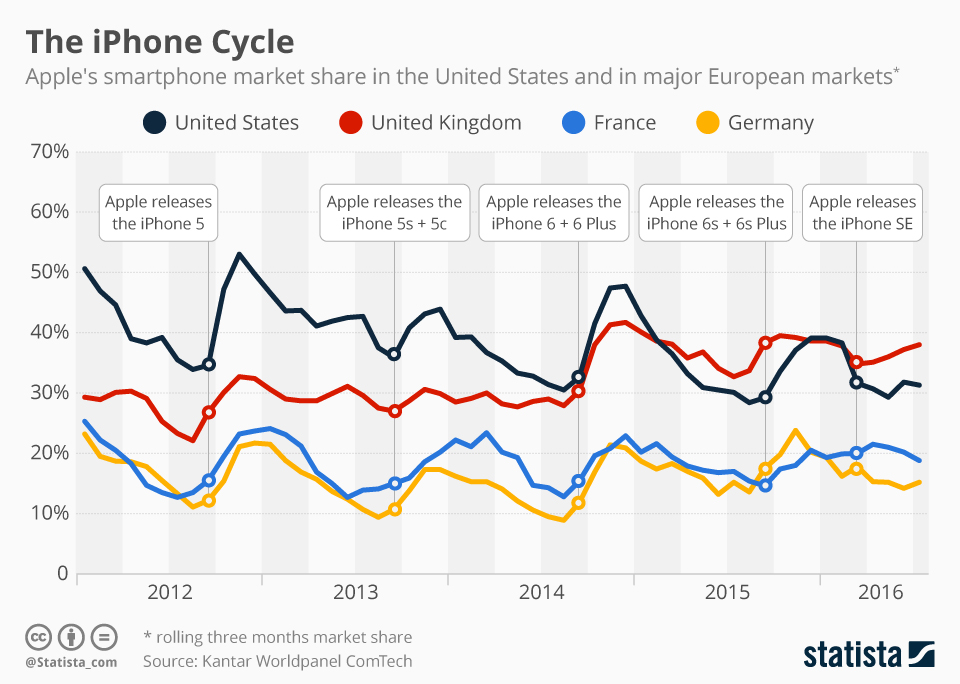 Chart courtasy of Statista