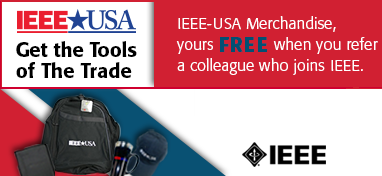 Have you encouraged someone who has your interest in advancing technology to join IEEE?
Now is a great time to do so. Refer a colleague to join IEEE today and they will pay only half the full year dues for membership through the end of 2017 and start enjoying the benefits of membership immediately.
As a gift from IEEE-USA, you have the option of receiving a piece of IEEE-USA merchandise when they successfully join. This is in addition to the monetary reward you earn from the traditional Member-Get-A-Member (MGM) Program!
The program is simple:
Refer your colleague via the online form.

Your referral automatically receives an email inviting them to join IEEE.

Your referral provides your IEEE member number as they join.

Within a few weeks after your referral joins, you will receive an email confirming your recruiting success, with a link to select your IEEE-USA merchandise item.*

You will receive a separate email for each new member you recruit.
Please help spread the word and share your IEEE experience – no one knows the benefits of IEEE membership better than you. Refer your friends and colleagues today!